Jenn Cacciola is a mixed-media fiber artist based in NY and CT. She uses intuitive material choices to leave relics planted throughout her densely layered scenes. These relics act as transmitters across lineage, tracking what has bloomed and/or been shed generationally. Her media range from fiber, to clay, wood, metal, painting, and drawing.
She received a BS in Visual Arts from SUNY Purchase School of Art + Design in 2015. She is an on-going member of NYC Crit Club and engages in curation and community building among artists as the Program Director of Ice Cream Social, and a co-curator of P2P Curatorial and of Openings Artist Collective. She has been awarded Artist-in-Residence positions at the Sheen Center For Thought & Culture, Manassas National Battlefield Park, and in virtual residencies with Socially Distant Art, Crisis Residency, World of Co, and Cel del Nord. Her works can be found in the National Parks Foundation's public collection and in private collections within the United States and Europe. She has exhibited at BRIC Arts, the Elizabeth Foundation for the Arts, Equity Gallery, Site: Brooklyn, National Association of Women Artists Gallery, Ely Center of Contemporary Art, among other spaces. She has previously taught PreK-12th grade Art in NYC schools, and worked as an Art Educator with the New-York Historical Society, the NARS Foundation, and Wingspan Arts. She has also assisted in art forensic and conservation projects for collections at the Hispanic Society of America Museum, PepsiCo Sculpture Garden, and TONDO Art Forensics Lab in Budapest, Hungary.
Jennifer Tazewell Mawby (she/her) is a Canadian/British artist working in Vancouver BC, Canada. Working across drawing, painting, and sculptural installation, her predominately figurative works are idiosyncratic and at times with pictorial worlds and narratives gleaned from ancient history, myth, and science fiction. After studying at Emily Carr University of Art and Design, she received an honours Masters of Fine Art jointly awarded by OCA and University for the Creative Arts (UCA) in the U.K. Mawby's work has been exhibited and published in Canada, the U.S., Australia, and the U.K. More recently she has been published in Arts in Square magazine and Art Maze magazine. 
A consummate storyteller, Jennifer Mawby has been described as a bard. Her paper-based scroll paintings are rendered in willow charcoal, oil pastel, and the ancient medium of casein paint and they employ personal symbology that suggests the possibility of a coded reading. Functioning like the subversive images embedded in the margins of mediaeval manuscripts and maps, the scroll works suggest a metaphysical cosmology in a lineage alternative to documented human history. Her listening tablet wall relief sculptures also appear to be artifacts from a different civilization. Made from a concrete based medium, and treated with drawing medium and copper chain, the tablets take on references as broad as the pineal gland, fungi forms, and ancient and non-western depictions of human anatomy including intangibles such as the energetic body.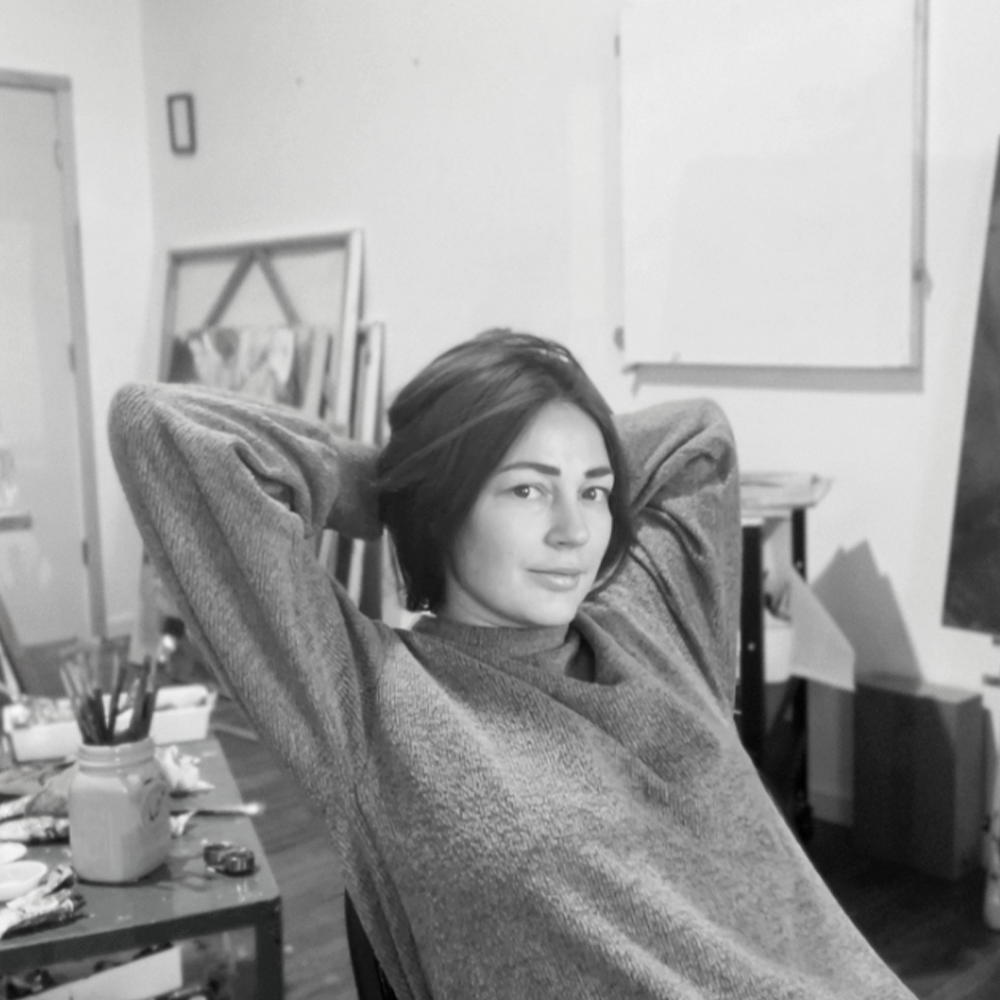 Taya Naumovich is an artist currently working and living in Philadelphia. Upon her formal graduation with BA in Marketing from Temple University, she moved to NYC and  continued her art education by taking various classes from School of Visual Art, The Art Students League of New York, and being  an active member of NYC Crit Club.Working back and forth between real media painting and the digital space, Naumovich's process underscores this testing of the boundaries between the natural and supernatural worlds and the artist's fundamental and metaphorical questioning of "truth".
Taya Naumovich' work invites you into atmospheric, transparent space where celestial movements of her often angel-like faces meldivian creatures calling you to tap into unknown space that she also drew upon symbolic connection between intuitive  knowledge of the world around her and subconscious universal truth that dance along Music of Spheres, that also mark the boundary  between natural and supernatural words. The artist  is interested in capturing and defining a moment, a glimpse, a memory, an invisible world we all coexist in, that has no physical boundaries of time and space. 
Dana O'Malley's small, domestically-scaled paintings contemplate the vastness within the quotidian. Utilizing discarded objects from the artist's daily life—e.g. a plastic carryout container, paper towels, office files—O'Malley explores the materiality and abstraction of the mundane. Her paintings are rooted in the touch, observation, and imprint of object, paint, and substrate. Her work has been shown in hallways and galleries throughout the United States including Annmarie Sculpture Garden (MD), Cedar Rapids Museum of Art (IA), Collar Works (NY), and Trestle Gallery (NY). O'Malley holds an M.F.A in Painting from the University of Iowa (2016), and a B.F.A in Painting from Rhode Island School of Design (2009). She lives and works in Philadelphia, PA.
SK Reed(she/they) b. 1992 is an artist living in Kansas City, KS. Currently, they are an MFA student at The University of Kansas. They have exhibited regionally at Curiouser & Curiouser, The Kansas City Artists Coalition and nationally at Ground Floor Gallery in Nashville and AUTOMAT in Philadelphia. Recently they had a solo exhibition titled, Myth at Leedy-Voulkos Art Center in Kansas City featuring a large painting on the floor the viewer could step into, ceramic vessels and heads, a wall painted like a wood-grained floor and a sheer curtain viewers had to walk through when entering the space. 
Their recent work explores the strangeness associated with being a queer body and learning from the more-than-human world. The difference between the liberation felt within oneself and the ways they feel their body is being perceived by others. A new character named "Creature" engages with the more-than-human world as a guide and teacher to counter ways of being.